Launch Pad Summary
July 27th, 2009
OK, one more Launch Pad post upon my return to Brazil.   The workshop seems to be a little better every year and it was a blast for me again this time.   I wanted to compile some relevant posts from me and others about Launch Pad so that there's one-stop shopping for anyone (including myself!) who wants to go back and check things out again.
The participants: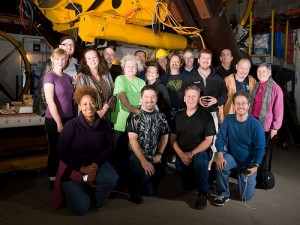 That's, along the back, Julie V. Jones, Gord Sellar, Christine Stebbins, Rob Sawyer, Pat Cadigan, Andy Duncan, Carolyn Clink, Tara Fredette, Marc Laidlaw, Ed Lerner, Stacey Cochran, Owl Goingback, Joe & Gay Haldeman.   In front: N. K. Jemisin, Mike Brotherton, Jim Verley, and Brian Malow.   Missing: Scott Sigler and Phil Plait.   Photo by Jeremiah Tolbert (our web designer, who also finally attended this year).
Stacey recorded a number of videos for us this year.   We knew we couldn't cover everything, and many of the talks are incomplete, but we hope that the parts we did record will give people a flavor for the event and let them learn a few new things, or at least be entertained for a little while:
Jim Verley from Launch Pad day one.
Joe Haldeman speaking at Launch Pad.
Mike Brotherton lecturing about light and related topics.
Mike Brotherton speaking about how stars form.
Mike Brotherton about the deaths of stars.
Ruben Gamboa on computers in astronomy.
Danny Dale lectures on infrared astronomy.
Phil Plait tells us seven ways a black hole can kill us.
Observatory Trip to the Wyoming Infra-Red Observatory (WIRO).
Note: my lectures are based on the excellent textbook, Horizons by Michael Seeds (credit to Markus Bottcher for many of the slides).   This is the text that we buy for all participants, a nice big 500-page intro text with up to date information and photos.   Some math in the book, but not calculus.   Highly recommended.
People were twittering during the workshop, for better or worse.   Here's how to find the tweets.
Many of the links I recommend and use during the workshop are compiled at this blog post about online astronomy resources for writers.   Also I find wiki has really gotten pretty good at the science stuff, although sometimes so much so it may be a little tough without a good science background.
Many participants wrote about Launch Pad either during or after the experience.   Here are some links to those writings:
Launch Pad is probably THE most amazing workshop I've ever been to. It's sponsored by NASA–i.e., they put up a little money for it and Mike Brotherton does all the work…I cannot say enough good things about Launch Pad. Mike Brotherton put every penny of NASA's money into resources for the workshop and in return gets…well, friends for life, as far as all of us are concerned. I have seldom seen the kind of dedication that Mike shows for astronomy and science fiction.
God, I just had to quote that.   Teaching often a thankless job, but not in this case.   Thanks, Pat!
Finally, a few more words about Launch Pad (what else?).   I'm not trying to turn the world into Hard SF Writers.   Astronomy can and does come up in writing of all kinds, and I'm dying to see a werewolf story that can teach the phases of the moon to readers effortlessly.   Also, as time has passed, applications have increased dramatically and it can be hard to get accepted.   I now know how college entrance committees must feel, as I am compelled to try and balance the group and have the ability to reach diverse audiences.   I have failed to admit many talented and successful writers, who I hope will reapply and can come in the future.   I've had queries about folks starting up other versions of Launch Pad in Pittsburgh and London, and also queries for people who want to ask me about proposals and funding for similar workshops on different topics.
We should be doing a minor redesign of the Launch Pad website soon and adding some of this information there.   As usual, we should open up for applications in February and have the workshop in the summer, dates to be determined.
You can follow any responses to this entry through the RSS 2.0 feed. You can leave a response, or trackback from your own site.