Recommendation: InterstellarNet: Enigma by Edward M. Lerner
April 20th, 2015
A few years ago I got a review copy of the first book in the series, InterstellarNet: Origins, which I liked very much. The latest in the series is now out: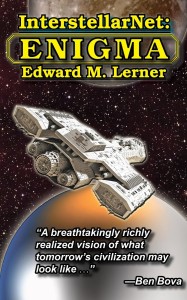 My blurb, which should be free of spoilers:
Edward M. Lerner's InterstellarNet: Enigma is an engaging, intellectually stimulating science fiction novel spanning cosmic time that tackles a puzzle fundamental to the series.  Science and logic dominate the narrative in a way they do all too rarely in the field these days.  Chock full of aliens, spaceships, killer robots, artificial intelligences, InterstellarNet: Enigma does not shy away from action when the story calls for it, representing a satisfying balance of thought and deed.  This is quality science fiction.