Spider Star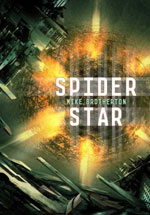 The human colony on the planet Argo has long explored and exploited the technology left behind by an extinct alien race. But then an archaeology team accidentally activates a terrible weapon: a weapon that will destroy the entire colony, and its star, if they cannot deactivate it. Evidence at the site suggests that the weapon was created for the ancient Argonauts by another race, a race of traders. The archaeologists discover a map of their interstellar trading empire, and the coordinates of their main trading station. Although the information is over a million years out of date, the only hope for Argo is to send a ship and crew into the unknown, to find the traders—or anyone who can help them find a way to shut down the weapon.
Available from Tor Books. Order Now.
Read the prologue and first four chapters here.
Booklist (starred review):
The author of Star Dragon (2003) returns with another compelling work of hard sf, this time involving a human colony on the planet Argo and some terrifying human-alien contact. Although the Argonauts have been gone for some two million years, the technology they left behind has proved useful to later settlers. Then the team leader of a training mission on Argo's larger moon inadvertently triggers an ancient but still functioning doomsday weapon that apparently was created for the Argonauts by another, even more advanced race of traders. If it isn't deactivated, the weapon may well destroy Argo. Specialists in a wide variety of sciences embark on a desperate search for the advanced aliens' main station, the Spider Star, which, according to the so-called Saga of the Spider Star, is neither star nor planet but "a real place, and its golden heart is the source of all good and evil." The sciences and technics involved in the story run the gamut from astrophysics, astronomy, and meteorology to high-tech engineering, robotics, and astrobiology. Once again, Brotherton meticulously creates fully integrated, three-dimensional characters and complex interrelationships and rivalries, which with vivid depiction of the alien cultures as well as the planet Argo, the starship, and the Spider Star itself, make this a must-read for hard-core hard-sf fans. — Sally Estes

Sci-Fi Weekly review by D. Douglas Fratz, B+ rating:
"Human colonists undertake a risky deep-space expedition hoping to learn how to use ancient alien technology to save their planet from destruction…space adventure in the Niven tradition…well worth reading."
Romantic Times, Top Pick, 4 ½ stars:
"This novel of interstellar archaeology and adventure recalls a young Larry Niven at the height of his ability, but with greater scientific literacy. Brotherton's second novel shows a marked improvement over his promising first, Star Dragon, and brands him as a significant new hard science fiction author." –James D. Nicoll
Spider Spins Tale of Science, an article at Sci-Fi Wire by John Joseph Adams about the science behind the novel.
Don D'Ammassa:
"This one is filled with the sense of wonder that used to make me read compulsively every free minute I could manage, a return to the far flung imagination of Edmond Hamilton and the early Andre Norton, but with better characterization. Unless this is a fluke, Brotherton is going to be a much more familiar name soon than it is now."
In the 24th century, the human colony on the planet Argo has long explored and exploited the technology left behind by a vanished alien race. But they get a terrible surprise when archaeologists accidentally activate a weapon that will destroy the entire colony if they cannot disable it. Luckily, also discovered is a map locating the world of the weapon's creators—a world known as the Spider Star. Although the information is eons out of date, the colonists' only hope is to send a ship and crew into the unknown, to find someone who can help them….
So begins a potentially lethal mission of exploration and first contact—a wonder-filled novel of hard SF adventure that will enthrall fans of Hal Clement, Larry Niven and Gregory Benford.
Kirkus:
"Solid science and ideas aplenty…"
Publisher's Weekly:
"Readers will respond primarily to the story's strong and reliable pacing … and intriguing premise."
Locus:
"Mike Brotherton's second novel, Spider Star, merges interstellar archaeology and ancient galactic history, multiple alien encounters, and the exploration of a really big Big Dumb Object into a kind of Second-Contact-on-steroids adventure…The book is a bit reminiscent of Jack McDevitt in the way the adventure is framed by happy domesticity and bureaucratic and organizational tensions…The denizens of the Spider Star evoke Larry Niven in the species-psychology portraits. The Argonauts…are reminiscent of the Moties of Niven and Pournelle's The Mote in God's Eye…Fortunately, the handling of of both the ancient Argonauts and the various inhabitants of the Spider Star are ingenious and engaging, and the suggestion of a universe that stretches beyond the boundaries of this particular tale and of stories left to tell is one of the hallmarks of good science fiction." — Russell Leston
Spider Star joins the grand tradition of pairing hard SF with xenoarcheology. It has millions of years of history and a whole universe worth of hard physics. Combine all that with a dire threat, exploration, and some horrific encounters with aliens, and readers will certainly get their fair share of "sense of wonder" from this book. The main characters are a little hard to root for, being rather insecure individuals, but reading about a team of dedicated scientists working together to explore new things is enjoyable.
"I'm a few chapters into this and it is terrific so far. Big Smart Objects, astroarchaeology, credible science — this is what SF is all about. I immediately rushed off to order his other book, Star Dragon." — Fred Zimmerman, Nimble Books
A Mania Books pick of the week.
From the Denver Post:
Spider Star, by Mike Brotherton, $26.95.
Reviewed by Fred Cleaver
University of Wyoming astronomer Mike Brotherton's second novel uses dark matter as the background for an exciting story of exploration and survival.
Earth has colonized a planet Earthlings name Argo, dubbing the long-dead race that used to be on the planet Argonauts. They have made a number of interesting archaeological finds without a clear idea what happened to this advanced civilization. One thing that has been discovered is the children's tale of the Spider Star, which is said to contain the secrets of good and evil, mostly evil.
One exploration mission seems to set off a weapon that sends devastating blasts from the interior of the system's star. The first blasts target a moon, but when they move to the planet, something drastic has to be done.
Frank Klingston feels he must abandon his retirement life and go on a mission to the Spider Star of the children's story. His late addition to the crew is seen as a challenge by commander Manuel Rusk.
When they reach the Spider Star, they are greeted not by the advanced culture that built the star but by unfriendly races that live in the outer spokes of the structure. Klingston and Rusk set out on independent paths to find the fabled source of good and evil.
"Spider Star" has a classic sense of wonder with a vivid picture of astronomical marvels.
Harriet Klausner:
In 2453, humanity has established a thriving colony on Argo, a planet in the Pollux System with incredible military and archeological treasures left behind by feral aliens estimated to have been here a million years ago. Other similar findings have been found on the orb's moons and humans have taken advantage of the superior technology.
The military conducts a training exercise on Argo's inner moon Charybdis. Commander Manuel Rusk inadvertently turns on a defense system left behind by the aliens that ignites the sun to send trajectories of fire at the planet. Based on interpreting records to save the colony, Rusk believes he must journey to Spider Star where he hopes an expert exists who can turn off the switch. He and space explorer Frank Klingston lead an expedition that makes it to Spider Star; only to have most of the landing party including Klingston taken prisoner by spider-like aliens while robots attack Rusk.
This is an exciting fast-paced futuristic outer space thriller with an interesting unique climax to the Argo extinction issue although there are some seemingly implausible moments especially on Spider Star. Rusk and Klingston are heroic FIs (F**ken idiots) as they blunder about starting on the moon affirming the oxymoron military intelligence. Fans of faster than light science fiction will join the expedition to Spider Star to find someone to save Argo.