After I've Considered That…
May 23rd, 2012
I've seen this on facebook recently, and another friend just emailed it to me, so let me post it here to launch a couple of points for discussion: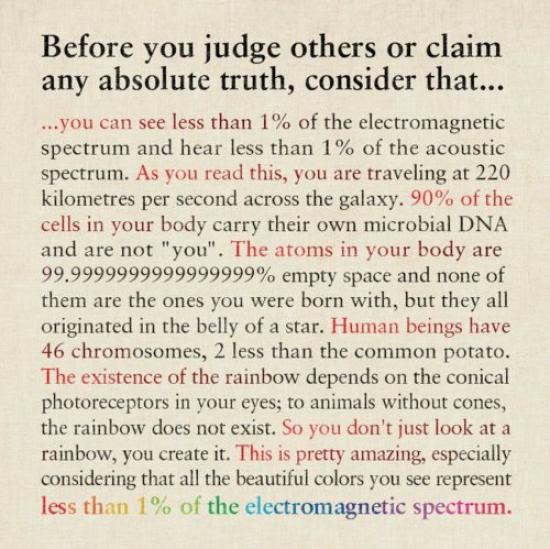 So how about if I knew all that already? And could even make some minor corrections? Do I get to be certain?
A quick google fails to bring up the origin of the graphic or quote. Anyone know? Might make its meaning clearer, as cool as it is on its own.
To me, this seems to be a message to be uncertain in a complex world that is much more than it seems. I'm ok with that message, although it's a little hard to know who exactly it's directed at. I suspect it's directed at the scientifically illiterate who are nevertheless positive they have all the facts about our world. But thinking more deeply, I wonder…
There's a part of me that sees possible irony here, too, however. Science makes a point of building more and more reliable theories, but rarely comes out with "absolute certainty." The things to consider here, however, are all essentially scientific "facts." Are they right? Absolutely certain?
What if we're all part of a computer simulation, or the dream of a dragon?
I'd also be interested in replacing the headline with, "Science shows us wonders you can't even perceive, and that your perceptions are wonders in themselves."
Finally, this is a nice reminder for us thinking about and writing about non-human intelligences (science fiction writers, SETI scientists, etc.) that our senses and our knowledge create our experience of the world, and it can differ drastically from being to being. What color are radio waves? What does infrasound sound like? What is real and what is perceived? Is it possible to communicate in any meaningful manner with beings that don't share our senses?
Looks like I picked the wrong week to quit taking acid…
You can follow any responses to this entry through the RSS 2.0 feed. You can skip to the end and leave a response. Pinging is currently not allowed.